iSchool Student Snapshots: Aaron Louie
By Heidi Andress
March 19, 2002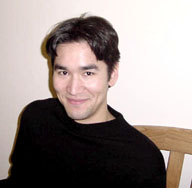 Silverfish: We're sitting here with Aaron Louie, the recently elected ALISS Vice-President. Hi Aaron! So Aaron, where do you hail from?
Aaron: I come from Salem, Oregon. Which is in Oregon in the Willamette Valley.
Silverfish: How long have you been here?
Aaron: Here in Seattle? Since 1998. Almost four years.


Silverfish: And what were you doing before you came up to Seattle?
Aaron: I worked in Washington DC at the American Association for the Advancement of Science. I was just a secretary… a grunt doing secretarial work.
Silverfish: Why did you leave Oregon to go all the way to Washington DC?
Aaron: My girlfriend had an internship at National Geographic and after we graduated from high school I had no job prospects in Oregon so I was like, 'What the hell. I'll just go with her.'
Silverfish: So Aaron, you'd say this was a typical 'boy follows girl across the country' thing?
Aaron: Yes.
Silverfish: Did everything work out there with that?
Aaron: Yes, we're engaged now. I started out working out at stupid little administrative assistant secretarial jobs as a temp and I landed a job at the American Association for the Advancement of Science which was where I had wanted to work when I first moved to Washington DC anyway so that was very fortunate. I was working in the executive office with really high-powered scientists who are setting science policy and lobbying Congress for various science advancement sorts of things. It was very educational.

Silverfish: So then how did you land here at the UW?
Aaron: I graduated from college with degrees in Biology and Psychology. I thought I wanted to be a biologist. I wanted to be a scientist. I started looking at the job market and realized there were no jobs in biology or psychology that are actually interesting so I fell back on my hobby of web design. I did freelance web design while I was in Washington DC. And then we moved to Seattle because my girlfriend went to the UW. She got her Masters degree in Geography and so I came with her here. And there were a lot of jobs here at the time. So I started looking for web design jobs as a freelancer and a couple of friends and I started a web design company and blah, blah… So I landed a job here at the University of Washington doing web site management and educational technology research and that was extremely interesting because it allowed me to take my psychology background and some of my science background and meld it with my web design and computer science background. I got really interested in user conceptions of information and information behavior and system design and content management and all that other stuff that goes along with web design and usability. So I started looking into graduate programs that dealt with those sorts of issues. User interface design and information behavior and stuff like that. So I narrowed it down to Technical Communications and Library and Information Science. The more I looked at Technical Communications the less it looked like something I wanted to do. It was just a little bit too narrow in terms of research and stuff. I finally chose Information Science because it seemed really, really interested and it's been very rewarding.
Silverfish: So are you focusing more on Library Science or Information Science?
Aaron: I'd like to think I'm somewhere right in the middle because I see a spectrum where on one end you have library science where people focus on organizing information so that people can use it and focus on the user and how people conceive of information and how best to relate to people and how to manage people. And on the other side of the spectrum, you have the technology and all the computers and all the system design. I'd like to think I'm right in the middle because I care about both sides.
Silverfish: So are you going to be working in libraries or with systems?
Aaron: That's a good question. I don't know.
Silverfish: So you haven't really decided on your professional interests just yet?
Aaron: I think it would be fun to work in certain jobs. Like a computer gaming software company- to be an information specialist or special librarian there. I also think it would be really fun to work in an academic library or to continue working for the research group I've been working with for the last two years doing education technology and being an information specialist or special librarian in some sort of research context.
Silverfish: What do you miss most about Salem, Oregon?
Aaron: I think the thing I miss the most is the lack of rain. There's less rain there than there is here. I don't have a whole lot of connection there. I guess the best thing about Salem is my fiancée's parents live there and they have a hot tub.
Silverfish: So it's the hot tub that calls you back to Salem? OK, what are you currently reading?
Aaron: I get in about ten minutes in the evening before I go to bed. I'm reading several books. An anthology of poetry called 'The Poetry of Our World'. I don't remember who the editor is, but it's pretty good. Maybe a better question would be, 'What game am I playing right now?' I stick with one game. Right now I'm playing Return to Castle Wolfenstein. I'm almost finished and it's a well-designed game.
Silverfish: Hey, what classes are you taking next quarter?
Aaron: 550 with David Levy and 570 with Matt Saxton and I don't know what else. There's another class I need to take but I'm not sure what it will be. Something that fits in there somehow.
Silverfish: OK, I'm a little concerned for you. Class starts in a week and half and you don't have a third class.
Aaron: Well, I'm officially signed up for 535- Classification Theory with Jens-Erik, but I'm not sure I want to take that just yet.
Silverfish: Regarding ALISS, are you working on anything you are really excited about?
Aaron: Yes, I'm thinking it would be a good idea to expand the role Silverfish plays in the iSchool. As VP, I have to decide how Silverfish is going to be staffed. I'm thinking of revamping the system and having a few more editors so we can have more content every month. An editor for all major areas of interest in library and information science. But I don't know if we want ten different editors. It might get a little bloated. Maybe a senior editor to oversee everybody. It would greatly increase the amount of content coming in and increase the importance of Silverfish in spreading information in the school.
Silverfish: OK, our last question is…do you like Siberian Husky dogs?
Aaron: To own or just to look at?
Silverfish: To look at. I'm campaigning for my puppy to be the iSchool mascot. Do I have your support?
Aaron: I saw a silverfish in the Medical Building this morning. I think that would be the perfect mascot. But it's dead now.
Silverfish: Uh, thanks Aaron. I think.
---
Submissions Requested
Are you interested in sharing your knowledge with the rest of the student body? Have you attended any conferences or taken an interesting or worthwhile class outside of the department? Would you care to review nearby bars for us? Send your Silverfish submissions to Ariel Johnson or John Buell.
---
Edited by Ariel Johnson and John W.N. Buell
Silverfish Web Design by John W.N. Buell