Book Review: Gladwell, Malcolm (2000). Tipping Point: How Little Things Can Make a Big Difference. Little Brown & Company; ISBN: 0316316962
By John W.N. Buell
March 29, 2002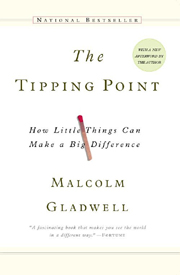 During the spring break I had a chance to attack that pile of books we all accumulate during the quarter. I am sure you have one; it consists of those irresistibly interesting books your classmates, friends, and professors recommend to you during the quarter but you never have the time or energy to read until well after turning in that last project. One of the books on my pile was Malcolm Gladwell's best-selling non-fiction work, Tipping Point: How Little Things Can Make a Big Difference.
Gladwell is best known as a science reporter for the Washington Post from 1987-1996 and since 1996 a staff writer for New Yorker magazine. In Tipping Point, Gladwell weaves an enjoyable work devoted to the phenomenon of how social trends and behavior can suddenly become part of the mainstream without apparent antecedent. Illustrating his argument with examples of various epidemics including the spread of AIDS and the sudden resurgence of Hush Puppies shoes in the late 1980s, Gladwell demonstrates that the spread of social behavior often parallels the cycle of viral epidemics; there is a period of slow steady growth, and then at some point, growth reaches exponential rates, peaks, and declines. Borrowing a term from epidemiology, Gladwell calls this point the "Tipping Point", a moment at which a great deal of change occurs without a correspondingly large trigger event.
Although Gladwell is light on the science and his conclusions do not necessarily follow from the facts presented, the subject is thought-provoking and gives one pause to consider whether we really know the cause of any event, or whether events can be said to have one readily identifiable cause. As Gladwell notes, "changes that happen really suddenly, on the strength of the most minor of input, can be deeply confusing." To clarify this confusion, Gladwell argues that we need to look at the presence of three important actors associated with tipping point events, the Maven, the Salesmen and the Connector.
According to Gladwell, a Maven is a person who constantly monitors a variety of information channels and possesses a great depth knowledge about some subject. Salesmen are extremely seductive individuals with the extraordinary powers of persuasion. Connectors are people who seem to know everyone, and be known by everyone. Connectors circulate in different social circles, collecting a wide variety acquaintances and often serve as the connection between large social networks.
With entertaining character sketches illustrated by interviews of extraordinary people, Gladwell argues that social epidemics are "tipped" when individuals with these characteristics are involved. Using the example of Paul Revere, Gladwell argues that it was Revere's status as a Maven that provided him with the information that the British were massing for an attack, his status as a connector that allowed him to spread the word to a variety of people in the towns surrounding Boston, and the presence of Salesmen, who convinced the townspeople to resist the British, helping this incident to serve as the tipping point in the American Revolution.
By illustrating the principles of social epidemics, Gladwell hopes to induce positive social progress by highlighting an epidemic approach to solving problems. Perhaps Gladwell's understanding of the principles of social epidemics helps to explain the popularity of this entertaining and enlightening book.
---
Would you like to see your book review here? We would love to hear from you! Send your ideas for Silverfish submissions to Ariel Johnson or John Buell.
---
Edited by Ariel Johnson and John W.N. Buell
Silverfish Web Design by John W.N. Buell