The SPL bookmobile: past and present
By Emily Inlowe, MLIS Day
How many of you, as a child, saw a librarian driving a bus full of books around your local city, and thought that would be the coolest job ever? I know there are a few of you out there. Well, if you have been paying attention to the news of Seattle's 2005 city budget you would have heard that Seattle's bookmobile was threatened, creating a public outcry. Fortunately for Seattle, and the patrons the bookmobile serves, funding for the bookmobile has been found and it is safe for now. To put the whole story in perspective, a little history is in order.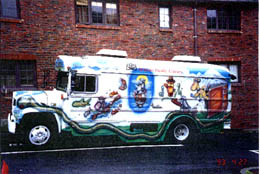 The Seattle bookmobile began more than seventy years ago, in May 1931. The focus at the time was on library service to children. The bookmobile visited sixteen schools as well as the Sacred Heart Orphanage and the Washington Children's Home. The original van was specially constructed with revolving shelves to allow access to books on the inside or outside of the van, depending on the weather. The bookmobile was staffed by a librarian and a driver, and held about 600 books. But as economic hardships during the Depression led to a lack of funding for public services, SPL's bookmobile program, like other U.S. cities' bookmobile programs, was cancelled in 1932 and the original bookmobile was sold.
The Depression affected other pieces of Seattle Public Library's budget. On August 23, 1932, SPL's Board of Trustees, in a cost-cutting measure, stated: "It shall be the policy of the Seattle Library Board not to employ a married woman whose husband is able to provide her a living. Any library employee marrying a husband able to provide a reasonable income will be required to tender her resignation". Nine women were dismissed in the next six months and fourteen married women kept their jobs by submitting affidavits that swore their husbands earned less than $100 a month.
Source:
Historylink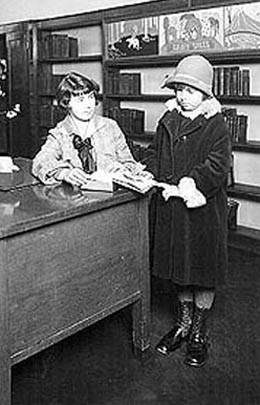 It wasn't until 1947 that a new bookmobile was purchased and service began again. The new van was named "Molly." As the city expanded, services were focused on the growing neighborhoods outside Seattle's downtown core. Molly originally stayed at each stop for one to three hours, but after demand grew, the stops were shortened to ten minutes each. The original staffing structure was kept, with the driver sometimes performing clerk duties. On January 1, 1954, Mobile II, otherwise known as "Benny," was adopted into the bookmobile family. Benny and Molly split the annual 8,000 travel miles by route: Benny visited the neighborhood stops because with his bigger engine it was easier to haul his book-heavy van up Seattle's steep hills, while Molly visited the schools, the bookmobile's original patrons.
Mobile Services, the bookmobile operations department, first lived at 1100 E Union St until 1957 when it moved to the basement of the Yesler branch. It moved in 1968 to 8th and Dearborn, and then moved to the basement of the Green Lake branch. The 1950s and 1960s were a time of construction of new neighborhood branches for Seattle Public Library. The bookmobiles adjusted their routes accordingly, developing informal criteria for evaluating stops based on patron interest, distance to the closest branch, and accessibility of branches for seniors and patrons with special needs.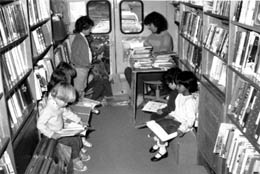 In the 1960s, a combination of factors, including the wane of the Baby Boom and improvements in school libraries, led to a decline in stops to school libraries. In 1969, van driver Doyle Barner flew to Wooster, Ohio and picked up and drove back to Seattle "Ramona," a van named after Beverly Cleary's beloved character. By 1975, however, service to school libraries was completely cut. In 1984, a new van entered the bookmobile family. "Pot of Gold," a small Nissan van with opening sides, became a fixture at street fairs, neighborhood celebrations, and Seafair parades where it took on a publicity and marketing role by publicizing the library's services and signing up new patrons for library cards. By 1990, two more buses had been added to the fleet: "Animal" Truck, named after the brightly painted animals that decorated the van's sides, and "Eugene," named for the city that sold the bus to Seattle and which replaced Ramona when it "died" in 1989. By the 1990s, these two bookmobiles were serving 75,000 patrons. By 1997, the same year fifty years of continuous service was celebrated, laptop computers connected the bookmobiles to the library catalog and circulation systems, and by 2004, Seattle had bought the first natural gas-powered bookmobile in the nation.
Today, Mobile Services, which works out of the Washington Talking Book and Braille Library, services citizens who cannot reach their local libraries because of age, illness, or disability. They stop at retirement and nursing homes, as well as other facilities that house people who are unable to visit their branch libraries, including facilities and residences of developmentally disabled and physically handicapped citizens. Mobile Services also stops at eligible, full-time childcare centers and other special daycare institutions throughout the city. Homebound citizens who have been homebound for more than six months due to disability or illness may apply for a residential stop from the bookmobile.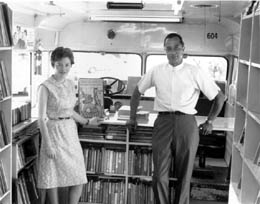 As of 2004, the Mobile Services served over two hundred care facilities and hundreds of homes. But 2004 looked like it might be the end, at least until better economic times, of the bookmobile. In the 2005 proposed city budget, SPL saw that their budget had been reduced, and that funding for Mobile Services had been cut altogether. When word of this got out, a flurry of protest and outrage erupted. The library union began discussing it, and protests organized by patrons of the bookmobiles were planned at several care facilities impacted by the budget cut. A lot of Seattleites asked, if we have the money to rebuild so many of the libraries, including the new $165 million Central library, then why can't the city afford $800,000 for the bookmobile? The answer to this is that the library construction project money comes from a 1998 Libraries for All bond that set aside funds for capital library projects, which means that none of that money can be used for anything other than construction projects. City Librarian Deborah Jacobs and the Library Board looked at other options when trimming the library budget, but stated in an interview with Bob Young at the Seattle Times that the book budget had already been trimmed by 28 percent since 2000 and they didn't want to trim it further. They also did not want to shut down the library for weeks at a time, like they had done the previous year.
After more discussion back and forth it was then announced that the budget for the bookmobile had been restored, though reduced. The City Council pledged to keep the bookmobile running during budget deliberations, promising $400,000, half of the $800,000 needed for normal operations. So for now, the bookmobile stays.
Sources