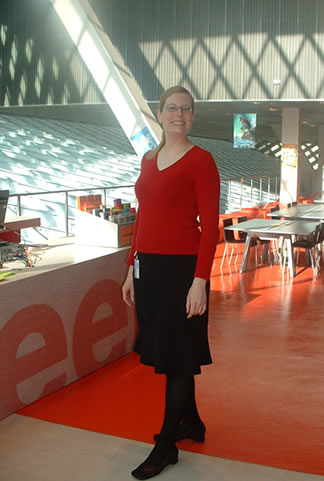 An interview with Amy Cassidy, Teen Librarian
By Sarah Evans, dMLIS
When I heard plans for a Silverfish issue focusing on SPL Central, I quickly volunteered to conduct an interview. Amy Cassidy is one of two full-time teen services librarians at the Central branch. She's also one of my favorite pen pals. We met through the Young Adult Library Services Association listservs (YALSA-L and YALSA-BK). This interview presented a lovely opportunity to visit with Amy in person and hear more about the library that she loves to work in.
About Amy Cassidy
Amy hails from Canada, where she earned her MLIS. She was the librarian at a private school in Tacoma for three years before coming to SPL. She has been in her current position since June 5th of last year, shortly after the opening of the new Central branch.
Her enthusiasm for Seattle and the Central Library are engaging. "I live in a fabulous city and work in a fabulous building," she says. "90% of the adults who come into this facility are speechless with awe. There's a very small minority who expect a Carnegie style library and complain. But teens love anything new and cutting edge, so this place is great for them." Amy enjoys the clientele that has been attracted to the facility. "We have teens coming in from all over the city to use this space. It's a wonderfully diverse group too. Not just in terms of ethnicity, but also gender, economic status, age, such as younger or older teens, and homeschool, independent, and public school students."
The Building
When discussing the Central branch, Amy talks about three components; the building, or the space itself, the collection, and the services. The Teen Center is a part of the 3rd floor, one of two floors that can be accessed at street level. For patrons who enter via 5th Avenue, the Teen Center desk is often the first point of service contact. Also on the third floor are the "living room," fiction stacks, talking books, a café, and the Friends of the Library store. The Teen Center runs along the 4th Avenue side of the building, "like a bowling lane" as Amy says, and has a sunken floor to distinguish the space. In addition to materials, there are study carols, tables, and computers for teens and teens only. "Anyone is welcome to browse the collection, but to sit down and use the furniture or computers, you must either be a teen or be with a teen. We define teen as ages 12-18. We do ask adults to leave, which the teens think is great. It confirms that it's their space." Amy said when unaccompanied adult patrons refuse to leave, they simply call security who ushers them out, with the approval of on looking teens.
The Collection
The first part of the collection patrons encounter is graphic novels. The shelving is situated between the general patron seating and the Teen Center service desk. Since the format is popular with all ages, this set up allows non-teens to easily access the items. The Central branch owns about 1000 book length comics (Deborah Jacobs' preferred term), but only about 200 are on the shelf at any given time. Beyond the service desk and study tables is shelving with new fiction and some high interest non-fiction for teens on topics such as beauty, social issues, or astrology. The rest of teen non-fiction is interfiled in the stacks on floors 6 through 9. The stacks continue with teen audio books and finally teen fiction, which consists of over 5000 titles. Not that much of it is on the shelves, as the teen collection is well used. Amy shared some statistics with me comparing 2003 to 2004. Circulation of teen items was up 50% across all Seattle Public libraries and registration of teen borrowers was up 29%. "It's not just about Central. Many branches were remodeled or built and opened last year," Amy stated. "There is a lot going on for teens at SPL overall."
The Services
"The Central Library has a duel role. We serve the downtown area, but we also serve the entire city of Seattle as well." The teen services librarians of the Central branch have leadership roles for all the libraries. One teen librarian recently created reader's advisory booklists for the branches. Amy is the web liaison and manages the Teen Start Page for SPL. She also collaborated with children's librarian Joy Oliver to create a drop-in database instruction class for 5th through 8th grade students, particularly homeschool students. The librarians at Central also do quite a bit of outreach. "The Central Library has schools that fall within our service district, such as the Center School, which is a public arts high school, and the Hutch School for patients and family of patients at the Fred Hutchinson center. We do database instruction and set up Living Voices programs for other schools in the city as well." Within the library, the teen services librarians host school tours, bring in authors to speak, and serve as a touchstone for teens in the library. "The Teen Center is a place where teens feel comfortable being helped."
The Working Reality
I asked Amy how staff feel about the new building overall. She reflected, "That's hard to say since there was a suite of changes happening almost simultaneously. We opened the building and began a new model of centralized reference service. All reference questions are sent to the Mixing Chamber (5th Floor) and subject specialist librarians, except for children's and teen, spend time working there. We also had a series of administrative changes last month. This month, we are transferring to a new catalog system. The changes have been good overall, but it is a lot to deal with." Then Amy smiled, "But I can tell you there were some librarians who delayed their retirement to get a chance to work in this building. I think overall, the librarians who choose to work at SPL are forward-thinking and like to be on the progressive edge, the forefront." Since the library was built with the floors representing different components of what a library does, there can be a disconnect between staff in different areas. "There are over 200 people who work in this building. It's like a small village. We [on the 3rd floor] know a lot about what happens on 1st floor, but not much about what happens on floors 6 through 9. Some of the reference librarians don't realize that we don't answer reference questions at the Teen Center. There has been discussion lately on what we can do to facilitate cross-department communication and get to know the other floors better."
Of course, I had to ask Amy for any advice she might have for library students. "Think about why you are in library school," she said. "If you want to go on and get a PhD, focus on your grades. If you want to get a job, don't ignore your grades, but focus on building relationships within the library community. This is a profession of relationships. Work at possible resume experience, volunteering on boards, professional associations, networking, et cetera. No one is going to ask in an interview the grade you got in reference services. If you can't afford to join the professional organizations, at least join their email listserv and get in on the community dialogue." For her parting thoughts about her job, Amy said, "Part of being the Central Library is that we are a library for the whole system. Our role is to be that kind of mother ship and to serve everyone. Our collection and services are for the entire city of Seattle."