What are YOU reading?
Compiled by Phoebe Ayers, MLIS Day
We recently profiled the Silverfish staff and contributors to see what comics we're reading. The list reveals varied tastes that reflect the multiplicity of the comics world. We like webcomics, graphic novels, and newspaper comics, along with classic cartoonists. How to choose among them? Aaron Louie provides us a potential measure - his own Entertainment-Artistic Index. Read on to find out more.

Aaron Louie:
Classic comics:
- Thomas Nast The world's first real political cartoonist, Nast defined the genre and created many of the iconic portraits of numerous American icons -- Uncle Sam, Santa Claus, the elephant & the donkey -- that are still used today. His artistic abilities, coupled with biting commentary and satiric wit were unmatched by his contemporaries and will probably never be topped.
-
Little Nemo in Slumberland Playful, surreal, and heartbreakingly beautiful, "Little Nemo" recounts the episodic adventures of a boy in the landscape of his nightly dreams. In the last panel of every comic, Nemo is snatched from this alternate world and -- often rudely -- awakened. It's difficult to imagine how the artist, Winsor McCay, could draw a full page, full color comic like this every week...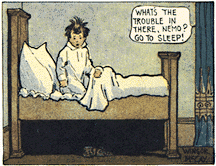 Little Nemo in Slumberland
Web comics:
- Penny Arcade Gabe and Tycho, the main characters and avatars for the artist (Mike Krahulik) and writer (Jerry Holkins), pull no punches in their thrice-weekly portrayal of the video game industry and its effects on society. The comics really must be read alongside Holkins' surprisingly eloquent blog-like entries in which he muses about the topics and issues depicted in the comics.
- Applegeeks Although Applegeeks is often spare on plot, the quality of Mohammad Haque's artwork is unmatched in the world of webcomics. One does not need to own a Mac to enjoy the comic-book-style layout, inking, and coloring. Quite impressive for a semi-twice-weekly comic.
Political cartoonist:
- David Horsey Blah blah blah Pulitzer Prize blah blah Honorary PhDs blah blah blah. David Horsey is the pinnacle of modern political cartooning, and stands high above the hordes of less talented and, frankly, awful contemporaries. Not only does his humor, intelligence, and wit outmatch that of most newspaper editors, he is more than capable as an artist.
Newspaper funnies:
I rate newspaper comics these days based on the percentage of times they make me laugh and on the quality of the artwork. So, I have created the Entertainment Index (LI) and the Artistic Index (AI) for your convenience. Each score is out of a maximum of 100. The comics below are ranked according to their net score (NS = EI + AI/2). As you can see from the ranking equation, I place more value on EI than on AI. This is because, when I'm drinking coffee in the morning, trying not to fall back asleep, I need happy feelings more than I need pretty pictures. Certain comics have a net negative score, such as Gasoline Alley (EI:-100, AI:80) and Cathy (EI:-100, AI:-100) and are not included in this list.
---

Aaron Bowen:
"Rapaces," by Dufax and Marini -- The flash intro is quite impressive, and once you are into the main page, definitely click on "rejouer l'ancienne intro" ("replay the old intro"). This is one of the coolest pieces of flash I've ever seen!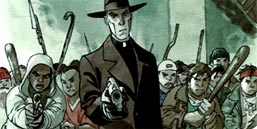 Rapaces
Also:
"Sasmira," by Laurent Vicomte.
Asterix -- Goscinny and Uderzo, and
Tintin -- Hergé;, both of which are standard classics.
---

Sarah Evans:
Comics/Graphic Novels:
"Batman: Year One" by Frank Miller
"Y: the Last Man" series by Brian K. Vaughn, et. al.
"The Amazing True Story of Teenage Single Mom" by Katherine Arnoldi
Funnies:
Manga:
"Wild Act" by Rei Takada
"Forbidden Dance" by Hinako Ashihara
---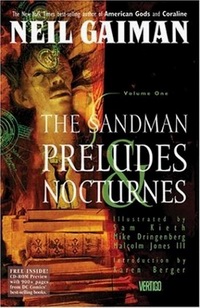 Emily Inlow:
My favorite comics/graphic novels are:
Sandman
Preacher
Bone
Last Kiss
Liberty Meadows
---

Jeanne Doherty:
Favorite comix:Leviathan, Sandman, the Wild Party


Favorite anime: Vampire Princess Miyu, Tale of Genji (sans subtitles, which are awful), Akira (like everyone else).


Newspaper strips: Sylvia


horrible, guilty pleasures: Elfquest and Cerberus and Gloomcookie
---

John Glover:
---

Phoebe Ayers: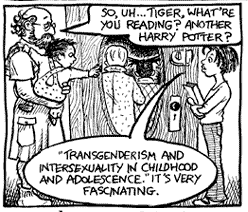 Dykes to Watch out For
---

Jenine Lillian:
Mutts, by Mcdonnell
Zits, by Scott
Ernie Pooks Comeek, by Barry
and, of course, Unshelved
---

Carmine Rau:
Just to name a couple favorites...