Batgirl: Librarian and Super-hero
by John Glover, MLIS Day
By day, she's a librarian - by night, a super-hero. She's appeared in comic books, movies, television shows, video games, and many other media. She's been on lunchboxes, key rings, t-shirts, and much more. You know her as - Batgirl!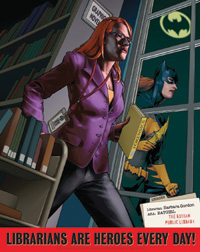 Over the years, different women have worn the mantle of Batgirl, a super-hero born at the start of the Silver Age of comic books as an offshoot of DC Comics' Batman. There was also once a Batwoman, but she eventually disappeared, lost to a giant reshuffling of the DC universe in the mid-1980s. Batgirl has seen a large amount of interest in recent years in all the media forms in which DC publishes. The current Batgirl in DC's main continuity line, Cassandra Cain, has been well received by fans, been blessed by good writers, and is a fave of yours truly.
The real Batgirl, however, the one who comes to mind when most fans think of Batgirl, is Barbara Gordon, daughter of Gotham Police Commissioner James Gordon. This is the Batgirl you remember from the 1960s television show, played by Yvonne Craig. Gordon was the first Batgirl and lasted for many years before being crippled and confined to a wheelchair by famous DC baddie the Joker. Most importantly for us - she started off as a librarian and subsequently became the primary information broker for super-heroes in the DC universe, assuming this role under the name of Oracle.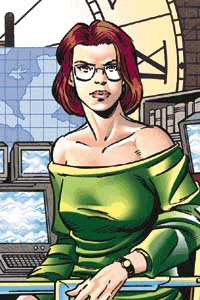 Batgirl has weathered change over time with grace. As with other information professionals, she has shifted from card catalogues and the library hand to the Internet and computers. Her fellow super-heroes look to her as the most important of information resources now, from Batman to the Justice League of America. It has been argued that Barbara Gordon has at last come into her own as Oracle, enjoying independence, recognition, and power matched by no female super-hero in the DC universe, excepting, perhaps Wonder Woman or Supergirl, both of whom owe their success to truly extraordinary powers. Batgirl/Oracle has always done it her own way, with human strengths and frailties.
Interest in the first incarnation of Batgirl remains strong. Recently DC published a series re-envisioning the first year of Batgirl's career transported to the current day. Likewise, she has appeared recently on television, both as Batgirl and as Oracle. She's also served to help campaign for the ALA, as has the Sandman. Wherever the future leads and whatever it holds in store for Barbara Gordon and Batgirl, it's good to know that a librarian can be a super-hero!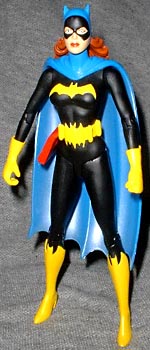 Links
All about Yvonne Craig
The Batgirl Archives
Batgirl was a Librarian!
The Batgirl/Oracle Site
Birds of Prey Online
DC Comics
Women of Gotham
Click here to buy a poster of Batgirl to support ALA! It's the same image as you see on this page with Barbara Gordon walking through a library and Batgirl in the window.
Copyright Notice: Barbara Gordon, Batgirl, Batman, Birds of Prey, Oracle, and all related characters and representations thereof are owned by DC Comics and Warner Bros., Inc., and are used herein purely for educational and entertainment purposes and not for profit.