Librarian Spotlight:
The fast paced world of an academic librarian
By Beverly Slabosky
---
You may find her coming to her work at the Suzzallo Library with a thermos of coffee and a band-aid on her hand after a morning of feeding roosters. Glenda Pearson is passionate about animal rescue, politics, and her position as Head of Microforms and Newspapers (MicNews) in Suzzallo Allen Library.

In addition to running a department, Glenda is the subject librarian for Comparative Literature, Cinema Studies and Human Rights. She has been working at the UW Libraries for well over twenty years. During this time Glenda has been involved in the development of the Cinema Studies minor in the Comparative Literature department, the Human Rights Educational Research Network (HRERN) and much, much more.
Background
Glenda was spurred on to the library profession by a love of reading and the intellectual energy surrounding university life. She graduated from the UW with a B.A. in Comparative Literature, taught high school, worked at the University Bookstore (she was the first female stock "boy", then assistant manager) and then returned to the UW for her Masters in Librarianship. Before becoming a librarian in the McNews unit, Glenda worked as the Indexer for the Pacific Northwest Collection and was a Library Specialist.
What she likes about her job
Glenda likes collection building and doing research—coming up with big complicated schemes (projects) that can't be supported with existing staff and money. On a daily basis she does everything from working on grant proposals to clearing paper jams on the microform equipment. "Our primary mission is to make things work for the patron," she says. Glenda is very sensitive to making materials accessible and thinks one of the benefits of working in McNews is that patrons are "captured here" to use materials because of dependency on the special equipment that microforms require. Consequently, Pearson believes that McNews staff learn a lot about current research topics and can more easily develop relationships with patrons. She also believes that "if you bring your own interests into your job it will never get boring."

Student Contributions (Portfolio Opportunities)
Student assistants have long provided a constant flow of youthful rejuvenation in McNews. Undergraduates and graduate students provide reference work and prepare newspapers for microfilming. Information school students have been involved with many special projects as well. MLIS ('03) graduate Memo Cordova was instrumental in the design of the Human Rights Film Directory, second year MLIS student Beverly Slabosky worked as a film reviewer on the same project and MLIS alumnus John Vosmek ('03) worked on a cataloging project. Additionally, MLIS grad Lisa Spagnolo ('01) worked on the World Treaty Index and MLIS student ('03) Justin Wadland worked with genre terminology on the Ethnic and Special Audience Newspaper Project. Students may contact Glenda for current opportunities at pearson@u.washington.edu.
Glenda's View on Current Politics
" What our country is doing now is really tragic to the development of world order," says Glenda. "No matter how you feel about our presence in Iraq, we have become a feared and dangerous country. We have done away with so much good will that came our way after 9/11. As scholars and librarians, we are in a good position to study international law in relationship to cultural and social values, and to work toward civil society at many levels in our lives."
Advice for Information School graduates
Pearson offers the following advice for iSchool students upon graduation: "The field is so wide now. Be open to all opportunities that come along. Don't be personally obsessed by money, but learn to use it as a tool to serve your library or collections. Above all, develop and maintain your sense of values."
Outside of Work
On her off hours Glenda applies her interest in human rights to animals and helps run BaaHaus Animal Rescue Group, a nonprofit organization located on Vashon Island. Baahaus is dedicated to helping abused, neglected, and abandoned domestic animals—particularly farm animals that, due to past treatment, would be difficult to place through adoption.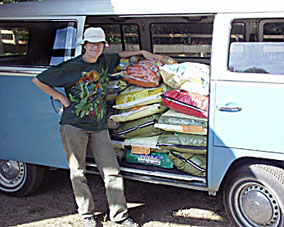 (picture used by permission of www.bauhaus.org)
Glenda with about ten days worth of grub at BaaHaus.