Everything You Ever Wanted to Know About the Writing Center,
but Were Afraid to Ask
by SJ Alexander and Kaijsa Calkins
---
As a new student, you may be pleased to learn that there is a resource to assist student writers in the Information School, the Engineering/iSchool Writing Center (EiWC). You may have questions about what the Writing Center is, and what it can do for you. We have compiled a helpful list of questions and answers to get you in the know.
Q: What is the EiWC?
A: The Engineering/iSchool Writing Center is a collaborative service offered by the College of Engineering and the Information School. The EiWC's purpose is to assist student writers. It is a place that you can bring drafts of papers, outlines, or just ideas for papers to discuss with a student peer tutor. Our goal is to help students hone their skills to become more effective writers. The process is like handing a paper to a friend and asking, "Does this make sense? Am I supporting my arguments effectively?"
Q: Who can use the EiWC?
A: Students in all iSchool programs can come to the Engineering-iSchool Writing Center. Informatics undergraduates work with the peer tutors in the Engineering Annex location. MLIS (including law library students), MSIM students, and PhD candidates work with the graduate peer tutor in the Mary Gates Hall location. Day students may schedule appointments to see the tutor in person, and evening and distance students may arrange for online tutoring.
Q: Who should use the EiWC?
A: Everyone! It is very difficult to identify unclear passages or other problems in your own writing. A tutor is a friendly "extra set of eyes" who can help you find an effective way to present your ideas through your writing. At the recent all-iSchool orientation, we asked the faculty to raise their hands if they let someone read over their writing before submitting a document for publication. Every faculty member present raised a hand.
Q: How do I make an appointment?
A: You can make an appointment on the EiWC webpage. The EiWC is linked off the main iSchool page under the "Services" tab. Or you can go directly to the EiWC page. Click "appointments," then fill out the simple appointment request form. You may choose an open time and date that works best for you.
Q: How do I prepare for an appointment?
A: The best way to prepare is to bring your assignment description and an outline or draft of what you've been working on. If you haven't started a draft, try brainstorming and bring your notes to your appointment. No matter where you are in your writing process, the tutor will work with you and help you get to the next stage.
Q: What will happen during the appointment?
A: When you arrive at your appointment, the tutor will ask you about your assignment and what kind of help you are looking for. Together, you and the tutor will identify your primary concerns. The tutor will ask questions and offer feedback and suggestions. You are encouraged ask questions and jot down your ideas as you go. You and the tutor will work together to develop writing strategies that will work for you. Ultimately, you make the final decisions about your writing; the tutor is there to offer suggestions and support.
"After being out of school for five years, I wasn't sure I could still write a school-worthy paper. The WC was extremely helpful in getting me back into academic writing. The tutor helped me clarify my ideas, themes and thesis. She helped me to smooth transitions, write introductions and conclusions. Most of all, it was important to know that I wasn't alone in the writing process. I could ask for help from a competent and caring person."
--Jenn Carter, ALISS president, MLIS student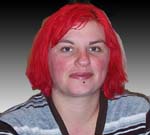 SJ Alexander